NEC Formula Lawyers Handling Claims for Arkansas Residents
Leading Attorneys for Necrotizing Enterocolitis Claims in Arkansas
The NEC baby formula lawyers serving Arkansas at The Onder Law Firm have a distinguished track record when it comes to winning cases against multinational corporations in order to achieve justice on behalf of American families harmed by negligence and corporate greed. Having supported countless families through the aftereffects of numerous drug and product recalls, our NEC formula lawyers for Arkansas claims are aware of the very grave nature of these types of claims and the numerous ways a family can be affected. Dedicated to achieving justice in even the most complex of cases, this national drug litigation law firm has dedicated its significant resources to provide clients with the best NEC formula lawyer representation available in Arkansas.
Our NEC baby formula attorneys serving Arkansas families believe parents whose infant developed necrotizing enterocolitis while using a baby formula such as Similac or Enfamil may be eligible for real compensation for the pain, suffering, medical expenses, lost income and other damages suffered, by filing a claim against the manufacturers, Mead Johnson and Abbott Laboratories. The use of baby formula to provide nutrition to preterm and underweight newborns puts babies in Arkansas at risk for NEC, a severe inflammatory disease of the gut, and critics allege the company chose not to warn consumers of this known risk in order to maximize sales of products such as Similac Special Care, Enfamil Human Milk Fortifier, and Enfamil NeuroPro EnfaCare Infant Formula. Numerous studies have linked NEC to baby formulas used with preterm infants, and the American Academy of Pediatrics (AAP) issued a policy statement in 2012 identifying human breast milk as the safest substance to feed preterm babies.
NEC lawyers believe that filing lawsuits is the only effective means for Arkansas residents to pursue compensation for the harm resulting from infant formulas designed for premies. It is widely known that litigation is the only way to truly pressure a large company such as Abbott Laboratories or Mead Johnson to prioritize consumer safety over profits in the future. In 2020, Abbott Laboratories reported $34.6 billion in U.S. global sales, while Reckitt Benckiser, the parent company of Mead Johnson, reported nearly $14 billion in global sales last year. Our NEC formula lawyers for Arkansas claims are firmly resolved to obtain for clients the compensation they need and deserve.
Our necrotizing enterocolitis attorneys serving Arkansas will provide a free case review to persons in Arkansas whose premature infant developed NEC while using a baby formula. The Onder Law Firm's NEC formula attorneys serving Arkansas provide experienced legal representation without fee unless they collect for their clients.
No Fees Unless We Collect for You - Our NEC Formula Lawyers Represent Arkansas Clients on a Contingency Basis
We will represent all persons involved in a NEC lawsuit in Arkansas on a contingency basis, meaning there are never any legal fees unless we win compensation in your case. Anyone whose child suffered from or died as a result of NEC from formula in Arkansas is eligible to receive a free, no-obligation case review from our attorneys. Simply contact our firm through the online contact form or the chat feature and one of our NEC formula lawyers serving Arkansas will contact you promptly to discuss your case.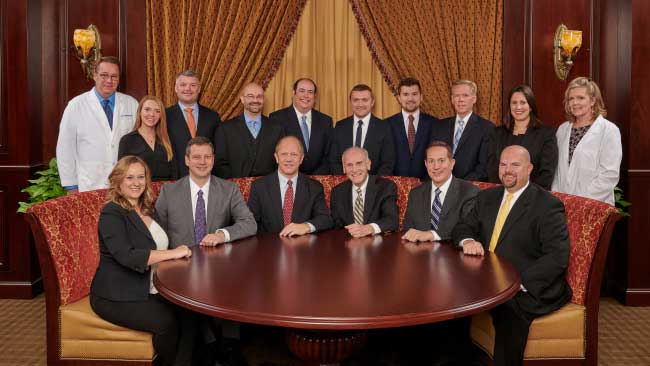 OnderLaw
OnderLaw, LLC is a St. Louis personal injury law firm handling serious injury and death claims across the country. Its mission is the pursuit of justice, no matter how complex the case or strenuous the effort. The Onder Law Firm has represented clients throughout the United States in pharmaceutical and medical device litigation such as Pradaxa, Lexapro and Yasmin/Yaz, where the firm's attorneys held significant leadership roles in the litigation, as well as Actos, DePuy, Risperdal and others. The firm has represented thousands of persons in these and other products liability litigation, including DePuy hip replacement systems, which settled for $1.5 billion and Pradaxa internal bleeding, which settled for $650 million. The Onder Law Firm won $197 million in three talcum powder ovarian cancer lawsuits in St. Louis in 2016 and other law firms throughout the nation often seek its experience and expertise on complex litigation.